The final of the trilogy, this is where everything ends, the climax of the weekend (I do have an extra day with Kiernan and Kazzie but this was really the end of the weekend). Probably the best day and all too. We have already seen loads of Muse fans singing in a square, muse perform live for the first night, and met an ungodly amount of Musers through numerous locations including BBQs, pubs, and Trafalgar Square. Now we see the final night and say goodbye to quite a lot of people as we watch Muse for the second night to conclude this grand weekend.
More takeshi's castle and crystal maze
Yup, when everyone wakes up at around the same time as everyone else, you just have to watch takeshi's castle and the crystal maze . We did the same thing in terms of heckling the TV screen with lines such as "You could of had EVERYTHING!" and "AUTOMATIC LOCK IN". I explained to Alice about the whole high death counts in both places and how they never really aired that stuff. It's almost become a mandatory thing you do when you wake up at Kazzie's house.
It'sa wii, warioo! HA HA HA
We also played some wii, we did the lifeline game where everyone would complete a level and at the end you had to cut strings up and kill off characters, I don't think I won at this game, ah well. We then started playing wii sports, now THAT was funny! I was a god at wii boxing, I proved that point when I defeated Adam a while back in just one round with him doing very little damage on me, after that I have been playing that more and more and have got to pro status on it. This means bad news for everyone else who was facing me. People were literally taking turns and getting knocked off immediately each time they played me. I usually killed them off on the first round and everything but it gets pretty vicious, Popey and Inn were the main contenders but I managed to destroy them in one round nonetheless hehe, Inn did get very jabby but I kept dodging them and unleashing some godly combo's straight back at her, ah good times.
Then we started playing games where anyone can win! Wii baseball, me and Popey went head to head on baseball, I'm not too good with the swinging so eventually I lost to Popey. He was well chuffed about it, I think I stopped playing afterwards since I was hogging the console too much and I had to get ready to go and all (not because I lost haha). I think Blee played with her friend Sarah a bit on the wii and afterwards we were once again ready to leave. Quick huh? Internet was mashed up in Kazzie's place all weekend and she was dying without it, she was on the phone all morning trying to book an engineer to fix the problem. It was funny how mad Kazzie got whenever she was directed to a call centre in Bangalore.
Ste is a bad man, a very baaaaad man
I think Inn and Kiernan sort of drove off in advance while the rest of us were split into two cars, Kazzie took in me and alice whilst Ste took Popey Blee and Sarah. Inn had left Ste the maps to the hotel so it was ste who was leading the way whilst Kazzie tailed behind him. Ste and Popey were slightly cocky about how last night they managed to get to Kazzie's house based on man instincts rather than maps and stuff, so I think they were doing the same thing a bit this time they drove around.
Occasionally Kazzie would swear at cars who went between Ste and her car. Me and Alice were just sitting there calm as hindu cows. However, during one point, we see Ste take a sharp sharp turn left, which Kazzie couldn't do since it was far too abrupt and basically ste just drove off! haha. Kazzie was not pleased. Ste was supposed to be leading Kazzie, not driving off without us. Later on, I asked Popey why Ste didn't stop and wait for us, it really sounded like Ste didn't do it purely because he was in a "moment", a rush and all in his head that made him go "YEAAAAARGH I'm driving fast! RARRRGH" or something. Back in our end, Kazzie was absolutely pissed off of what Ste had just done, we tried phoning them up and they gave us rather crude directions of how to get back to the hotel. We would have probably been fine if we had some directions and all but nooo, Ste had that so we were on our own haha.
Eventually Kazzie was lost, lost lost. The kind of lost when I was stuck at Wembley Stadium, only with less people, with cars involved, and we're not in a stadium (so technically its not really like me lost, but its nice how we use comparisons to determine that it wasn't really like that haha). Sooner or later I whipped my phone out and used the TomTom software to sort of find maps and routes to help the journey. Kazzie was rather impatient about it all so it made me give her random directions when she said "left or right?" haha. Eventually I got her to stop at some road so I could of used the advanced planning to sort out a route back to the hotel. We had phoned up Popey and managed to establish that we needed to get to Pinner Road in Harrow on the Hill to find them all. Eventually me and Alice tried to use the TomTom as a map to navigate Kazzie to Pinner Road, I wasn't too good with map reading but Alice did a pretty awesome job. We eventually got to Pinner road but saw no sign of everyone, then we just continued to drive on finding the hotel but eventually got lost AGAIN. We were stuck at Pinner Station (quite a way back from Pinner Road!). We initially thought we'd wait for them to pick us up but they had no idea where Pinner Station was, so back we went to Pinner Road (which was slightly more confusing to find our way back to and all). Everytime I would have a weird sense of dejavu when we went passed the roads and all, it was freaky. We eventually found a place to stop at Pinner Road and just parked there waiting for them to search for us, Pinner Road was a looong road and later we discover that there were two Pinner Roads which was why they couldn't find us!
I got out of the car to see if I could spot Ste and co who were out hunting for us and eventually I hear Inn screaming my name from a far far distance haha. I quickly get on their car and we immediately drive our way back to the Hotel del Harrow, I told Ste that Kazzie was going to kill him for driving off without us and he was well aware of it and was willing to take the beating (bless him). Once we got back to the hotel Kazzie got out of the car immediately and started to jump on him! He deserved it haha.
Upon approaching everyone Kev and everyone started giving me a big round of applause. Kev even took the liberty to shake my hand as well. Kazzie actually thought the applause was for her haha bless, but nooo, it was for me *glares at kev*. No idea what he said to everyone else, grrr. I think we immediately took off, we said our goodbyes to Blee and Sarah since they were only there for the Saturday night.
We were apparently disturbingly late for Nando's, Max had already got the seats and all and were waiting for us to arrive, it was mainly due to Ste getting Kazzie lost and all. Here we managed to meet up with kev, Gem, Leon, Stephie, Paul and Kiernan so add them all to the list of people who were ready to travel back to Wembley Park to get our greasy chicken. Inn was somewhere else eating stuff on her own because she wanted some time by herself (chances are she was avoiding big events so she didn't have to blog about it later on!). I think at some point Ste leaves us too to meet up with Aneta.
Eassy journey to Nando's
Heading to Nando's was breezy, we just took the tube and arrived at Wembley Park Station (second time again *shudders*) I was initially going to go Wembley Central but that was slightly longer so we decided to walk to Nando's once we get to Wembley Park station. Paul seemed to have lost his Oyster card so he had to buy a new one and all (think he just got a paper travel card and all) Alice had to buy herself a travelcard too since she didn't have an Oyster. Most of the cool kids had Oyster and were all topped up ready to go. Upon arriving at Wembley Park station I sort of led the way to Nando's, it was pretty funny because I usually found my way to nando's via Wembley Central but now I was a bit lost, Popey knew the way a bit so we eventually got there without getting lost
Piri piri chicken?
We walked passed another chicken restaurant that was situated right next to Nando's and sold "piri piri chicken" even the logo looks very similar to Nando's haha. We walked in and said that we were with Max and all but we discovered that they had to reduce their seating since they were there so long haha. Picture the episode of friends where Pheobe is having her birthday with her friends but people were late so they were forced to sit in a smaller table. Yup, people do that when you start hogging so many seats and not use them for several hours. Though the guys were pretty friendly and all and were keen on ensuring that we would get some seats as soon as possible. I reserved the table under "bob" but the guy misheard me and said "Paul?" so I said yeah why not, we had a paul haha.
We sat outside for a bit and talked for a while, eventually a table was ready and we were ready to queue up and order our food, the table wasn't next to Max's table but we were able to shout out stuff if we wanted to. Gem was keen on using her Nando's reward card to get her free chicken. I managed to get Kiernan to use my reward card to order so we can have multiple goes on the card (kinda didn't bother at the end hehe). I ordered some extra hot chicken wings this time since I wussed out with hot last time. I didn't bother with anything else since Alice was buying chips with her chicken pita so I could of shared with her and Gem had a whole chicken which I was actually going to eat most of (I initially was going to share it with Popey and Max but later on Popey was full so only Max had some of it). So yeah, for lunch (its too early for tea) I had 3/4 of an extra hot chicken, 5 wings and some peri peri chips. It was a lovely meal, though it took ages to finish off haha.
I got a phonecall from Inn asking for directions to get to Nando's, I gave her some rough directions and she was fine with that and vowed to find the place on her own with minimal guidance, and she did just that. Quite a lot of food ordering and consuming during the whole time and a lot of banter was made, shame we weren't sat next to the other table otherwise it would have been fun. We however saw Leon trying to smuggle Sprite from a glass into a bottle via the use of a straw and some good old fashioned plumbing techniques hehe. Alice ate quickly (well not quickly, I just ate slowly) so she was able to borrow my camera and take photos of me eating as well as other people.
At some random point Inn suddenly arrives at Nando's and catches up with everyone, she sat on both tables talking to Kiernan and other people, then she gets called by Ste asking how to get to Nando's so she sort of volunteered to meet them and take them up to Nando's. I can't remember most of the conversations to be honest but I do remember still eating at this point (not an easy task eating so much chicken). This is why I ordered chicken wings prior to having full platters and whole chickens whenever I'm at Nando's, with wings you know which bits to eat and how to eat it quickly. With a whole chicken you have to really mash the chicken up to get some meat out of it. Ste and Aneta arrive on the scene and sit on the newly attached table on the right which we asked some staff to join and all. Ste sort of quickly introduced Aneta to everyone one by one, I managed to do my usual hand shake thingy which was fun, afterwards they sort of sat on the far end and talked to each other.
I think most of the musers were about now, we were only missing one more person… kev. I think this is where Kiernan, Stephie and Inn sort of stand outside waiting for kev, I quickly got Alice to take a photo of them 3 waiting outside for kev, it was almost like groupies or fans waiting outside of the back of a venue for their favourite musician so they could say hello and scream into their ear about how much they love them. Kev took his time bless him but eventually made it to Nando's, I don't think he went inside to eat, he had a box of something and a drink in his hand so he seemed fine with the food (Nando's without kev? Yeah I noticed, he didnt have any the entire weekend whereas Alice had two (and that was the only thing she ate bless her!)). I think after a long banter inside and outside of Nando's we decided to head off to Wembley Stadium….finally haha.
Back to Wembley Stadium!
Today was special, all the mods and admins were guestlisted for this night which meant we would split up with Kiernan, Inn and Kazzie since we were assuming we'll be getting seating tickets and all. Kazzie was a little upset since she was promised a guestlist spot from Leon (since Leon felt like standing for Sunday) but eventually found out that Leon wanted to sit down again (because he had a job interview in Wimbledon). Kazzie was also sad that tonight Adam wasn't going to be at Wembley Stadium with her, actually she was sad throughout the day to be fair and quite a lot of people came to cheer her up from it. So yeah, it got to a point where the standing people went to see what's left of the gig (My Chemical Romance) whilst we went to the guestlist area and got our guestlist stuff sorted. Kazzie handed me her bag and asked if we could look after it for her (as well as her camera) since she was going to be standing and all. We were worried about the camera so we decided to smuggle it inside Popey's sleeping bag, as for her camcorder and stuff, we just left it there (bit weird eh?). I handed the bag to kev because I was carrying a bag of my own too (plus it was a ladybag and it suited kev more haha). During our walk kev did a lot of Stephie arse pinching being the charming man that he was (he wore a Blazer for today's event (that he got from a charity shop) just to be fancy hehe).
Once we were at the guestlist area we had to wait around a bit since Gem needed to wait for Cara since she was her plus 1 guest. Everyone was fine to wait to be honest (well apart from Kev and Stephie who really wanted to see My Chemical Romance hehe ;)) so instead of heading in we decided to wait around with Gem. Gem was really mad at Cara since the entire weekend Cara has been leaving Gem to see other people. We suggested to Gem that we could leave Cara's name in the guestlist and have her tell her name to the guestlist people for her pass but Gem insisted that we'd wait for her since last time she did exactly that and Cara wasn't able to get in (no idea what gig it was). So we decided to sit around and just wait for Cara, we weren't in a hurry anyway. Kev quickly went to the guestlist people to check if we were on the guestlist and all and it turns out we were (thats the biggest fear of going into gigs with only a name, otherwise it's pretty awesome going into a gig with just a name, if that makes sense).
Eventually Cara arrived on the scene and apologised for being late, we immediately queued up in the guest area and lo and behold, we see Tom Kirk's brother and Morgan hanging around here talking to each other. I instantly told Popey that Morgan was about and immediately he was star strucked, never before have I seen Popey's eye's stretch so wide, he was Morgan's biggest fan, and was always mad that he never gets the attention he deserves and wanted to meet him in person and tell him he was his number one fan. I'm not too sure whether Popey was joking about this or not but I played along with it! It was funny, Popey could have just walked up to in and started a conversation to the man he wanted to meet the most but he didn't, he was too busy with his mouth open just staring at him! Bless. (This is where I constantly mocked Popey afterwards with lines such as "YOU COULD OF HAD IT ALL!") I managed to approach Tom's brother once again and have a lovely chat with him and all, we talked about the gig yesterday as well as speculations as to whether or not they'll be doing anything different for Sunday, he assumed that it will all be the same since not all people are going on both dates and that the first night was a bit too spectacular for them to just do something completely different, I agreed with him and suddenly out of nowhere I saw the entire Kirk family next to me (apart from Tom). They recognised me doing my speech at Trafalgar Square and said hello to me hehe. It was cute since I didn't recognise them at first.
What the? Standing tickets?
Once that was done we were in ready to unleash our names and get our tickets etc. We were entering the "Club Wembley" entrance where everyone was dressed up nice and fancy. Even the bag searches were slightly more fancy than the normal entrances (since we were asked to sit our bags on the table whilst they did their search). It was pretty fun how they didn't find two DSLR camera's in both me and Popey. Tut tut. They didn't really search for Popey's sleeping bag so technically he could of smuggled a gun in that! Having said that he did have quite a lot of bags with him (since he was going to leave straight after the gig). Once in the reception area we had to give our names again so the receptionist would find and hand us our tickets. Immediately you could feel the wristband so we already knew that it had a special pass of somesort. However the surprise is that we discovered our tickets were…standing. It was strange because we were the only ones to have special Hospitality Suite passes but with standing tickets. We were slightly confused, we didn't know what to do so we asked someone and was later escorted to the hospitality suite where they served free soft drinks. The problem now was to be able to get passed the security guards who were checking for tickets to make sure people had the right tickets and not just a VIP pass.
Kev approached them and explained the situation and they told them that we could simply stay in the suite but had to go back to standing since we didn't have seating tickets and seats were reserved. We were a bit annoyed at this since it meant we couldn't really enjoy the VIP area haha, so we tried the other exit to try our luck and hope they just let us in. Whilst kev was explaining the situation again to the guard I was able to just walk passed the guard and actually get to the seating area. Though being only me I decided to step back again haha (I just find it funny when one person distracts the guard, the entrance is practically an open invitation for anyone to just walk in haha). I even spoke to the other security guard about whether or not there were spare seats last night which she replied yes. We were then directed to some lady who explained the situation to us that we could not have seats purely because we had standing tickets, she said she'd gladly escort us to get standing passes (since we got through the area where you exchange your tickets for passes) and direct us to the standing area blocks, but we could stay around the VIP area for a bit if we wanted to. We decided to quickly stock up on a glass of soft drinks before we went back to standing. There wasn't really much for us to do to be honest.
During the walk, Leon kept talking to lady, it felt like he was going to get her phone number just like he did for every female muser this weekend! (it was funny watching his list of female numbers build up). We were slightly disappointed that we didn't get seating since we were all tired and all but we were also glad in a way since we were able to meet up with everyone who were standing. I managed to quickly use the toilet in the VIP area, apparently when I was in there kev managed to catch Tom and tell him that our tickets were standing, he quickly responded with "Standing is better!". I think I heard that one at Shepherds Bush Empire hehe, but he was right, it was better… if we had golden circle passes *grovels*. We tried to ask the lady escorting us if we could get golden circle passes but that didn't work too great either, ah well.
Meeting up with Kazzie and co again!
Once back in the Stadium we were able to meet up with Kazzie and everyone, I managed to give Kazzie back her camera (which was inside Popey's sleeping bag still) and soon after, Alice needed to use the toilet (she should of used the VIP area hehe) so I went with her on the quest to find a toilet (it was going to be hard since My Chemical Romance JUST finished so all the guys and girls were rushing to the toilets and all). The normal toilets weren't really an option for Alice since the queue was loong. We decided to get back to the VIP area and use the toilets there since there would hardly be anyone in need for the toilets there. So we went on a crazy trip finding our way back to the VIP area, we had to get a security guard to take us to the outside area and all, he only took us halfway but we managed to find some vacant toilets and all on the 2nd floor. After that we had to jog back down the stairs and get back to where everyone was standing and all since Muse were about to start very soon, we dashed the stairs a bit too much since we hit the basement level and had to dash back to the ground floor again. Finding our way back was pretty easy and we managed to find everyone again! Phew (not like my bathroom break tragedy the night before one must say).
We were all lounging around the middle area again, this time, being prepared to find Muse bobbing out of the grey box again so we can take photos of it, since everyone had compact cameras and all they were either taking a few shots or a clip of them ascending from the box, I went slightly oldskool and used the telelens to do a burst shot of them coming up so I could use it as a gif! I was told by Kazzie that we were cool to use our DSLR cameras because it seems like they weren't too fussed about it! This was why I took the big daddy DSLR camera out as well as the telezoom lens! (Wish i knew that the previous night though :(). This meant photos were going to be a lot more nicer and all!
Suddenly the music stops, Muse were about to appear from the box again, it was funny how there weren't many people hanging around in the centre area after knowing that Muse will be coming out from the box, and like last night they came up posing. The funny thing is how they couldn't keep a straight face this time, probably because everyone knew they'd be coming out from there, everyone mentioned how Chris couldn't hold a straight face when he was rising up. I was at it with my camera taking burst shots until they full ascended from the box, the confetti was a bit annoying now since the focusing kept focusing in on the confetti so now the band was blurred, though having said that there was so much confetti this time that you couldn't really see the band anyway. Here's the gif of them in action!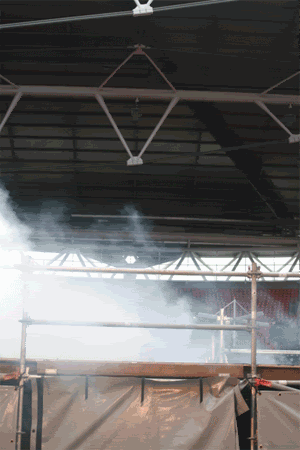 Muse and the 55-200mm lens
Once they started heading for the stage we knew that was it, Kiernan told us to head down to the side of the venue so we just started following her. It was cool because suddenly the crowds became less packed around the sides, probably because you couldn't see the entire stage from the side so you'll be missing all the clips and stuff. It was fine for us since we already saw it last night so we were now benefiting from seeing the band at a much closer distance. It was still pretty far but I was able to take some pretty decent shots of Matt with my 55-200mm lens. I only noticed that Kiernan, Kazzie and Alice were about, the rest apparently managed to find seats to sit on to enjoy the gig and all. I was happy where I was standing because I was tall enough to catch all the action as well as take photos of them! One of the funniest sights however was seeing Kazzie go nuts the entire gig, at one point she had her arms up and was smiling as if she was gathering the powers of all her ancestors who were previously crazy giggers so she could go nuts at tonights gig. It was a funny photo hehe, I was then going nuts on the photography with the lens, occasionally Kazzie would ask to borrow my lens so she could have a shot at it but the problem was she wasn't tall enough to get the money shots hehe. It was heaven for me :p
I think eventually Kiernan and Kazzie left the side which left me and Alice to watch the gig by ourselves. The best shots I took were when Matt stood on the side paths that had an amp for him to rock out on, he did that several times and from those times I was able to take some pretty sharp shots of him (see the photos in a bit). Alice was really patient with me and my photography, I was being a bit antisocial when I was taking photos of the band and all, however she was understanding of it all and allowed me to go nuts at the shooting, occasionally I would stop simply because I wanted to enjoy the songs with Alice. I gave up on taking photos of Matt when he played invincible and I didn't want to take photos of him when he did unintended. It was a song for some good old fashion swaying and all, not photography hehe. It was the best night ever, being able to listen to Muse, take photos of them and be in company with Alice who was amazing throughout the show.
Some bullet points of the gig (heres the setlist found at Musewiki), though less since it was so similar to the previous night:
Dan the trumpet man only played for Knights of Cydonia since city of delusion wasn't played
Blackout had the same girls, this time both me and Alice were able to take photos of them with the zoom lens!
Alice was too short to take photos, bless! (though she did take some photos of the flying acrobat ladies)
I kept shouting out the song names before they were played, you can instantly figure out a Muse song by a few seconds of song, usually you can hear echos of the guitar and just odd sounds that instantly prompt you on what song is going to be played next, I was annoying by telling everyone the next song haha, I did that both nights :p
No more crazy hair lady jumping up and down next to us spilling wine all over the place
We were slowly able to linger into the front of the stalls, go us! haha
I think that was it, the show was very similar to previous night but with a better photo opportunity for me as well as a few songs changed here and there. Near Take a Bow we decided to head off whilst it was playing, reason being I wanted to be able to exit the stadium as soon as possible by being closer to the exit as well as being able to take some wide shots of the stage, particularly when the flamethrowers were on during take a bow. Once that was done we were able to leave the place quickly. I was still buzzing from the gig, it was an awesome set like yesterday and was fun listening to them play live.
No flames
Flamesss
And then there were 8…
Once outside the venue, we immediately found the others outside waiting for us! We then found out that they were sitting down for the gig so were able to exit it easily. We were learning from our mistakes this time in terms of getting out of Wembley and getting to Wembley Stadium. Everyone talked about how mental Kazzie was and how much they ripped the piss out of invincible by using their bodies to illustrate the lyrics, I kinda wished I was there to see it as it seemed like they had a proper buzz from it all hehe. We said our goodbyes with people who were heading back home and all which included Popey, Ste, Gem and Cara (Ste was driving back up and was dropping off Gem and Cara back to Leeds). The only people left were Kazzie, Stephie, Kev, Inn, Alice, Leon, Kiernan and me.
There was a crowd still like the previous night but people were moving a lot faster than before, we were able to get to Wembley Park Station ok (I told people to make sure Kazzie was in front of us!) and somehow we were split into two groups, group A (me, Alice, Kazzie and Leon) and group B (Kev, Kiernan, Stephie and Inn). I had no idea why we were split into teams, I think it was just to make the journey back exciting as well as ensure that we'd move faster and not have to look out for everyone, just our team mates. Since me and kev were in opposite teams there was already a sense of mandatory competition and all. Don't think we competed in anyway anyhow haha.
Kebabland or Curryland?
Once we arrived at Harrow on the Hill, we were stuck with the ultimate question, Kebabland or Curryland? We were standing on a subway path that forked into two directions, the left hand side led to kebabland and their friendly staff with funny accents, the other side there was a street filled with curry houses that kev wished to go! I think we kind of split paths in search for food, kev went to curryland whilst we went to kebab land. Though a few minutes later we see kev coming back and telling us the other path doesnt seem to be the path to curryland (haha) so we were walking back together as a group of 8. It was a Sunday so most of the restaurants were closed. Finding food at this time of the night was really hard! We walked passed kebabland but decided that we wanted to go to curryland.
We managed to find ourselves a burger king, though we weren't going to eat there since the food sucks and we were all determined in going to curryland. However, Kazzie wanted to have a burger there since she was not fond of curry haha. She ordered her food whilst I ordered a bottle of fresh squeezed orange juice since I was parched. The juice was godly! So godly that I ordered another one! Kev found a burger king crown and wore that for a bit whilst Stephie saw a Stuart Little car ride and immediately got on it, from then on… things happened. I think they were trying to put money into the car but.. uhm.. well see for yourselves…
There was a really huge bee buzzing around the place which we tried taking photos of, but to no avail :(.
After the quick stop at Burger King we went back to our adventure in finding a curry house. I think the first two we went into were closed but eventually we found one that was still open and was taking orders. We were also able to eat in but we wanted to make use of the 20% discount and all so we ordered a Takeaway. The one thing we were missing however were knives and forks (I think Kazzie picked up a fork and handed it to me so I quickly shoved it in my bag haha). We quickly ordered our food as well as some popadoms to share (kev bought them for us). Everyone bought curry whilst I thought i'd be different and ordered seafood fried noodles on the Oriental Menu haha. After some bantering we got our food and all, they had given us our 20% discount as well as charged us less for the popadoms, I told kev to give him a hug but he didn't so I gave the waiter a hi5 (kinda felt guilty for taking his fork haha). We went back to the hotel to eat our food, stopping by at a Kebab place to get some additional cutlery as well as a bottle of water for Alice to drink. The walk was long but we finally made it!
We went inside Leon's room (since Kev's room was small and it smells) and immediately jumped into the his bed! Mmm comfty beds! We were then munching on the food we had! Alice was once again not hungry so I didn't force her to eat anything. My noodles was amazing, it was nice and hot still too! It had mussels, prawns and all sorts of seafood bits, I let inn have a taste and she really liked it. I tried a bit of her stuff but it was far too mild hehe. I wasn't too sure about everyone else and whether or not they liked their food but they didn't seem too pleased. The popadoms were nice too, I think Kazzie had some too since she had no idea what it was originally. Kev noticed that me and Alice were wearing matching socks, I explained to him that it was purely coincidental that we were wearing matching socks and he went awwh! 😀 During our feast Stephie knocked over kev's food on the floor which was funny, and to top that off she got milk (not hers) all down her top and on the wall, it looked really wrong haha!
After that I think Kazzie was ready to head off, Inn followed us to the car park as well as she bided us a farewell and drove off back home (home home). So now we're left with me, Alice, Kiernan and kazzie. We drove back to Kazzie's place for the last time (with Kiernan giving directions) and eventually got back to her place in peace (Kazzie was getting more familiar with the route back now). I managed to smuggle the bed inn was sleeping and shove it in the living room to sleep in. Kiernan was sleeping in the guest room again and Kazzie slept in her room again. Not much talking was involved (really tired) and we all soon fell asleep, well most of us anyway… (me and Alice actually kept hearing these strange noises, it sounded like the cat or someone laughing, but the morning after we discovered that it was 2 air fresheners spraying their stuff at timed periods, grr). Oh and we turned douglas around because he was a creepy, pervy man sitting there watching you!
And that's it, the morning after Kazzie drove us to Watford Junction and we took the train back to Euston where I left Kiernan to escort Alice back to Kings Cross where we had a nice long hug and said our goodbyes. I was a bit sappy and actually did a bit of platform running haha, haven't done that in a long time. It was a nice and fun weekend, I dont think anyone disliked it, we all met each other and had a wonderful time together and when watching Muse play. Even two weeks after (and blogging this weekend) I still miss the weekend and wish we could relive it or have another one again. Ah well.