Man it's tedious trying to type Röyksopp every time (the damn o haha), I'll just copy the name one and hope it will last. Anyway, the following day after Peaches I went to see Röyksopp play an exclusive one off show in London Royal Festival Hall (Southbank) for Ether Festival 2009. It was truly a spectacular gig, Fever Ray supported which adds the extra awesomeness to it.
Fever Ray were amazing live, it was eerie and mesmerising at the same time. They all wore really fun costumes including crazy robes and badgers as hats. Twas a pity that the lights were so dark, all I got to see was lasers shining across the stage, it was impossible to really make out what the band looked like and what they were wearing. Nonetheless the light show was amazing and it really worked well with the music. A lot of folks I know really want to see them play and I can see why now. This shot was taken when the singer Karin joined up with Röyksopp to play Tricky Tricky.
I managed to do some sexy ninja seating thanks to some folks on the Muse board (who also kindly got me into the members area and gave me a spare ticket to another show, super thanks to you if you're reading this
). Anyway, Röyksopp started off with Röyksopp Forever and that seemed to get the crowd going, followed by You Don't Have a Clue in which Anelli came on stage to sing.
I can't stress at how awesome Röyksopp are live, it's just a totally different thing. Svein managed to mash up a laptop during the performance and Torbjorn looked ace in his top hat.
They then played Remind Me, Röyksopp's Night Out, Vission One, Happy Up Here, The Girl and The Robot, What Else Is There, Alpha Male, This Must Be It and ended with Tricky Tricky with Karin from Fever Ray joining. There were loads of appearances from Anelli.
Robyn also appeared and sang for The Girl and the Robot which was ace. Here's a video of her in action: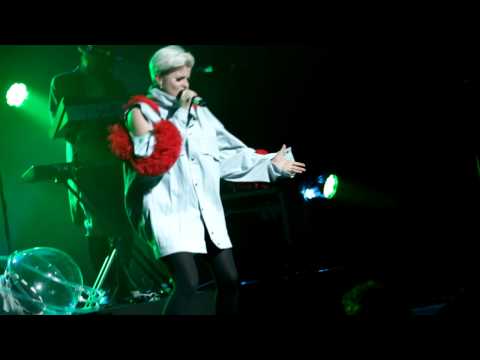 Sorry for the shortness of it, wish I had two 5d mkii's for taking HD videos and photos at the same time but yeah, I really like the photo I took of Robyn
Here's a video of What Else is There, I was a bit sad that Karin didn't sing this song as originally do vocals for this song, but nonetheless Anelli with her awesome owl mask saves the day.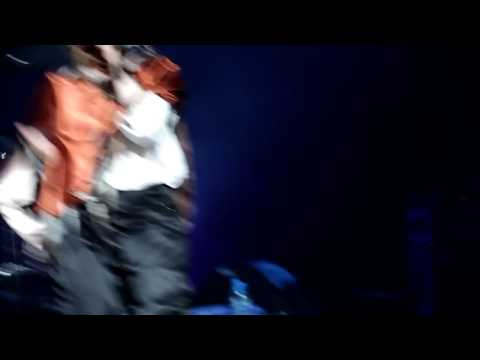 They came back for several encore songs including Eple, Poor Leno and finally with Tremor Morning. The show was just as awesome as the Peaches show, it was nice when the crowd started to head to the front of the stage to dance and boogie. It just feels so weird sitting down to be honest.
At the end of the show I managed to get a drumstick so woot, I went to the Chloe Ballroom and danced around a bit but opted to just head home afterwards since I was tired from two nights of dancing! But yeah, that was about it, hope you enjoyed the photos.