I love Ether Festival, in the space of one easter weekend I was about to check out 3 of the festival shows, one of them being David Byrne live at Royal Festival Hall.
It was all very last minute since I was offered the tickets during the Royksopp gig, but knowing me I say yes to any gig offers. So back to Royal Festival Hall for a third time. I arrived fashionably late and managed to catch David Byrne playing Strange overtones. The set featured songs composed by David and Brian Eno, though the show did specificy that Brian wouldn't be on stage to perform them…
The audience were very enthusiastic and around the 5th or 6th song people began making their way towards the front and dancing instead of sitting down. I eventually popped down there and took a few shots, you can tell from the two very different shots (one being overhead and one being around eye level).
The setlist was similar to the previous night only with one song that was different from last night's setlist. They played:
I Zimbra
One fine day
Help me somebody
Houses in motion
My big nurse
My big hands
Heaven
Never thought
Life is long
Crossed eyed and Painless
Born Under punches
Once in a Lifetime
LDW
Feel my stuff
The dancing really added dynamics to the stage, often with David being part of the choreography. The backing singers were also superb and provided David with that extra harmony goodness. David came back to play Take me to the River and The Great Curve as encore, following that was another encore of AIR and Burning Down the House, here's a video of it in action: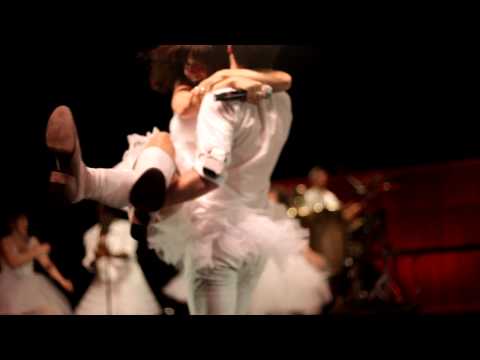 And yes, that is David in a tutu, he does a few moves with it too which was fun. The final encore (yup, David can pull off 3 encores for a show) featured Everything that happens where at the final moments Brian Eno graced the stage to singalong with David.
The crowd no doubt went ecstatic as front rowers tried to give Brian a quick handshake before he left, the time he was there was little but people no doubt treasured it. Was originally going to title this post "David Byrne at Royal Festival Hall (now with 40% more Eno)" but sadly it was a bit long of a title